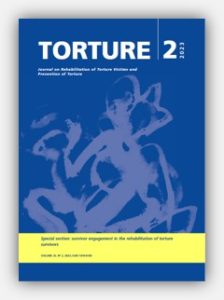 The Torture Journal is a distinguished publication that delves into the multifaceted field of survivor engagement and rehabilitation in the context of torture survivors. This latest issue serves as a platform for diverse voices and perspectives, featuring a collection of insightful contributions from experts, practitioners, and individuals directly impacted by torture and ill-treatment.
Opening with an editorial by Pau Pérez-Sales, the journal sets the stage by tracing the historical roots of survivor engagement, particularly in regions of the Global South. The ensuing special section on Survivor Engagement in the Rehabilitation of Torture Survivors presents a comprehensive exploration of approaches to empower survivors, restore agency, and facilitate effective rehabilitation. From Susan Wyatt's contemplation of various conceptual frameworks to Einolf et al.'s qualitative study highlighting best practices and potential pitfalls, the section offers a well-rounded examination of survivor involvement.
Mikel Soto sheds light on the Network of Tortured People of Navarre's empowering journey, showcasing the potential of collective empowerment and self-organization among survivors. Seini O'Connor and colleagues contribute a trio of articles: one detailing TASSC's survivor engagement model, another comparing characteristics of engaged survivors, and a third illustrating the role of cultural facilitation in mental health support for displaced communities.
The perspective section features compelling narratives and analyses. José Quiroga and Ana Deutsch revisit the evolution of forensic torture assessment tools, tracing their development before the establishment of the Istanbul Protocol. Christian DeVos and colleagues challenge conventional notions of torture by exploring its manifestations among socially marginalized populations, advocating for a contextualized understanding and broader state obligations. Daniel Weishut and colleagues delve into the practical use of the Istanbul Protocol in Israel, drawing on the insights of experts.
The journal also embraces the cultural and literary aspects of survivor empowerment, with Rachel Hoare discussing the impact of the befriending program and expressive arts activities in building meaningful connections. A book review by Giulia Berta offers a glimpse into the volume "Migration and Torture in Today's World," while Dr. Mahmud Sehwail's award-winning paper brings personal reflection to the forefront.
In essence, this issue of the Torture Journal is a celebration of survivor resilience, scholarly exploration, and collaborative efforts. The journal extends gratitude to the authors, organizations, and supporters who contribute to its growth, while also inviting future contributions for upcoming special sections. The Torture Journal remains a vital platform, embodying a commitment to fostering understanding, empathy, and change in the realm of survivor rehabilitation and engagement.