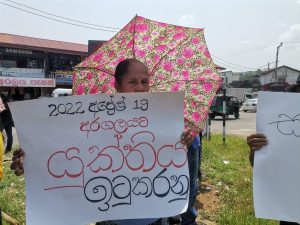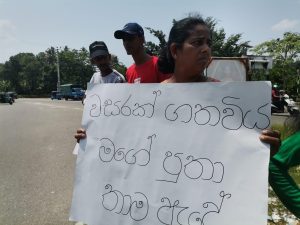 A year has passed since the Rambukkana police opened fire on a public demonstration, killing one person and injuring another.But still the law does not seem to be implemented against the police officer who ordered this killing or the lower police officers who carried out this shooting.
On April 19, 2022, there was a peaceful protest demanding fuel in Rambukkana town, and the police have not taken any disciplinary action against the then Kegalle in-charge SSP Keerthiratne, who came to the place drunk and ordered the murder. Instead, he has been appointed SSP in charge of Tangalla district.  No action has yet been taken against the lower police officers who fired on the orders of this senior police officer.
Due to this illegal shooting, one person lost his life and several others became permanently disabled due to this. But the government has not made any compensation for the person who was killed or for the people who were injured and there is no government intervention for that.
A demonstration was held yesterday (19) at 10 am in Rambukkana town in protest against all these issues.